Are you scheduled for a photoshoot and looking for the right makeup for dry skin? Photoshoots can highlight the best and worst aspects of your skin. Factors that can influence how your skin looks and feels in a photoshoot.
Lighting, the photographer and even how your skin looks on the day, can make having a photoshoot a bit daunting as you want to capture and bring out the very best of your skin and avoid the usual suspects that come with having dry skin including flaking, uneven complexion and cracking.
11 Tips on Photoshoot Makeup for Dry Skin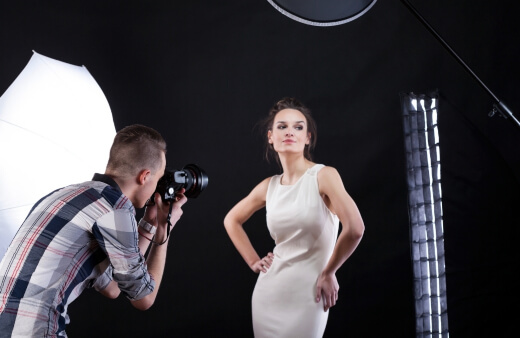 The weather, the season, stress, hormones, heat from lighting, all of these factors can aggravate your dry skin, in saying that, having dry skin doesn't need to be hard to manage. A consistent skin care routine with products that are designed for your skin type will make a significant difference in how your skin looks and feels, even with the changing seasons!
In preparing for a photoshoot, bring out the best in your skin with a skin care routine that will optimally hydrate your skin and choose makeup products that will help your skin appear smooth and even. If you are hiring a professional makeup artist for your photoshoot, make sure you let them know ahead of time about your dry skin, this will ensure that the products they will use is best suited for makeup for dry skin.
1. Exfoliate first
Remove any dead skin cells with the help of a gentle face scrub. Use a small amount of product and scrub in circular motions to remove dead skin cells and promote growth of new skin cells. The scrubbing motion also massages your skin to encourage circulation and optimal oil production. This also helps smoothen the texture of your skin allowing for easier makeup application.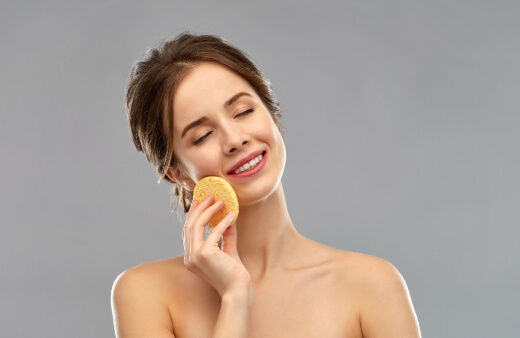 There are products designed for deep hydration that can be left on overnight, try these products once a week or as the manufacturer recommends. Overnight hydration masks can help to deeply hydrate your skin making it smoother, brighter and easier to apply flawless make up on.
2. Moisturize daily
Moisturising is essential for healthy skin, especially for dry skin. Include a moisturiser designed for dry skin in your daily skincare routine. Your skin type needs hydration the most and moisturizing is the best way to do it. You may want to look for a moisturizing product with SPF 30+ for daytime use, to add a layer of skin protection.
With SPF, you can prevent your skin from drying while you're out in the sun. This also reduces wrinkles, dark spots, and flaking skin. However in preparation for a photoshoot, leave the SPF behind as SPF can make your skin appear more oily than desired.
For the photoshoot day, use a moisturiser that is compatible with your primer, do not use one with sheen as it will reflect with flash photography. Moisturise and allow your sin to soak up the product before moving on to the next step.
3. Always use a primer
Using a primer is a must when you have dry skin. Aside from giving your skin an even tone for better makeup application, it also helps hydrate your skin. Look for a primer that has hydrating formula or benefits such as illuminating and smoothing. Apply a layer on your face including the eyelids and blend it with a damp fluffy sponge.
4. Choose the right foundation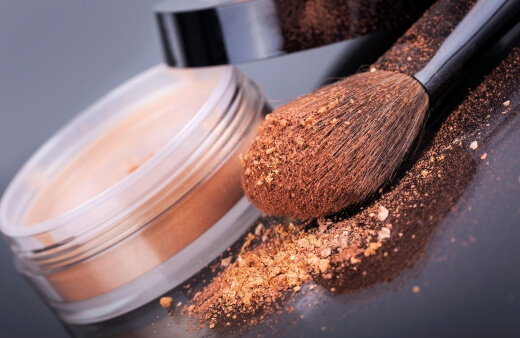 Investing in a quality, moisturising foundation, designed for dry skin is important. Look for a liquid foundation especially formulated for dry skin. Or a moisturizing foundation that provides hydration to your skin and gives your skin a dewy finish. It is easier to blend and less likely to dry out and become flaky.
5. Use a setting spray
Setting products are important in helping your makeup last longer, these products come in powder and spray form. Setting powders can dry out your skin further, they are better suited to oily skin types, powders can cause your makeup to look cakey which will be noticeable in photograph.
Instead, opt for a setting spray, they are formulated to add a natural shine and glow to your skin as well as the added benefits of helping your makeup last longer.
6. Use a cream blush and bronzer
When you're dealing with dry skin, using a cream blush and bronzer is better than using a powder for your skin type. Cream products stay longer on dry skin plus they have a dewy finish.
7. Apply highlighters
To prevent your dry skin from looking dull in appearance, a quality liquid highlighter can add a touch of glow to your skin, making it look vibrant. Dab a small amount of highlighter to your cheekbones for a luminous effect. You can also apply a tiny amount to your forehead, nose, and chin.
8. No to matte lipstick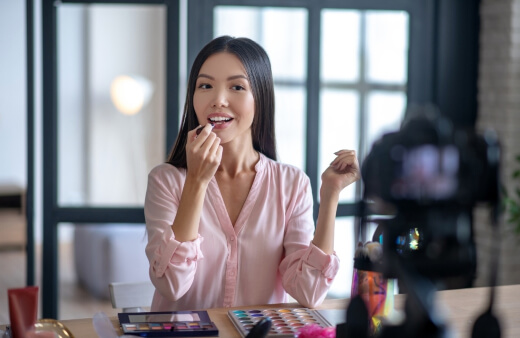 Yes, matte lipsticks are trendy and popular but they may not be the right kind of lipstick for you. If you have dry skin, the tendency is that your lips are the same and you're prone to have chapped lips. Use a hydrating colour-rich lipstick instead. It helps hydrate your lips and it has a glossy finish too, which looks great in photos.
9. Keep your skin fresh with a face mist
Always have a face mist handy for a quick refreshing spray any time of the day. It helps hydrate your skin and boosts your skin's radiance. Spray the face mist once or twice whenever necessary. Noticeably, the face mist helps brighten your dull complexion and freshen up your tired skin. This step is more applicable leading up to the photoshoot day, to add extra moisture to your skin.
10. Be picky with your skincare products
Avoid makeup products with salicylic and glycolic acid, parabens, essential oils, and witch hazel, consider avoiding products with alcohol which can be in the forms of SD alcohol, isopropyl alcohol, and denatured alcohol.
Makeup products with fragrances whether natural or artificial are often harsh on your skin. These ingredients are not good for any skin type however for dry skin, it absorbs the much needed moisture, resulting in further dry skin problems such as skin irritation, flaking and an uneven skin tone.
11. Use a gentle makeup remover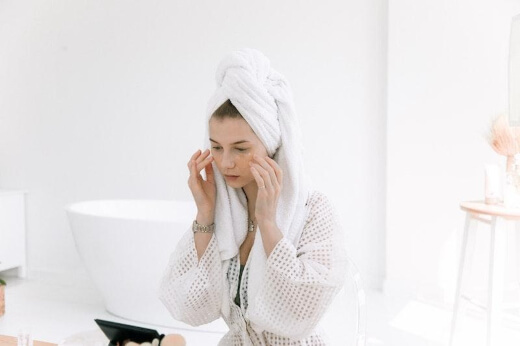 An important step in completing this skin care routine is to remove your makeup. Makeup for photoshoots is commonly heavier than everyday makeup, therefore you need to clean your skin properly. Avoid using a makeup remover that contains harsh and irritating ingredients such as alcohol.
These ingredients exacerbate your skin's dryness. Using a gentle makeup remover keeps your skin moisturized. You can also use gentle cleansing oil to help soften your skin. Be sure to moisturise again after your makeup has been removed.
Now You Know The Best Makeup for Dry Skin
Thoughtful skin preparation with a consistent routine using specialist dry skin products will help your skin be photo ready. With a healthy, moisturised base, applying carefully selected makeup products will be quick and easy without a trace of flaky or patchy skin. To top it off, your healthy, glowing skin will also give you a confidence boost that will show in your photos!