Are you looking for a bridal makeup for oily skin? Having oily skin doesn't have to mean that your makeup doesn't last as long or that you end up looking shiny in your wedding photos.
There are a few steps that you can take to help combat excess oil production of your skin, to help your makeup look great and to get it to last the whole day.
Tips on Bridal Makeup for Oily Skin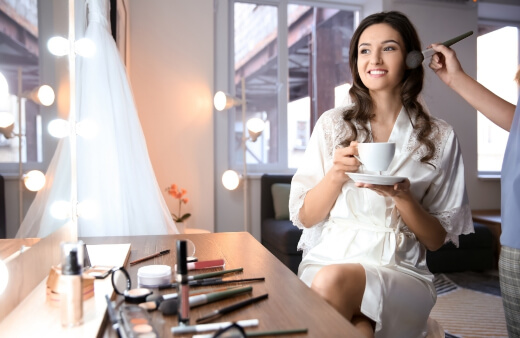 1. Talk to your makeup artist
Whether or not you book a professional makeup artist for your wedding or you do it yourself, it may be helpful to speak to an expert before your wedding, about the products they choose for bridal makeup for oily skin, and how they get their client's makeup to last the whole day.
An experienced makeup artist will have worked with many different skin types therefore they'll have some industry knowledge about what products to avoid such as foundations with sunscreen. We recommend booking a trial with a makeup artist to see what they would do with your skin, you can then decide what you want to do with the information they give to you.
2. Prep your skin
Preparation is a vital step that will affect how long your makeup lasts. In order to get the best longevity out of your makeup, prepare your skin by cleansing it with micellar water to remove excess oil and dirt, this helps to purify and mattify your skin, therefore, reducing the shiny look.
Simply dab some micellar water on a cotton pad and wipe it across your face. Make sure that your hands are clean when applying moisturiser and makeup to reduce bacterial spread which could lead to breakouts.
3. Use the right products for your skin type
Using the right products to combat oily skin is essential. Some products are simply not designed for oily skin, therefore no matter how popular the product is, when it is not compatible with your skin type, a product may just add to the shine.
An important factor is to introduce any changes to your skin care routine or products, well before your wedding day as you don't want to have any flare ups or reactions to new products right before your wedding day. Give your skin time to get used to new products by carefully selecting and introducing them weeks or even months leading up to your wedding day.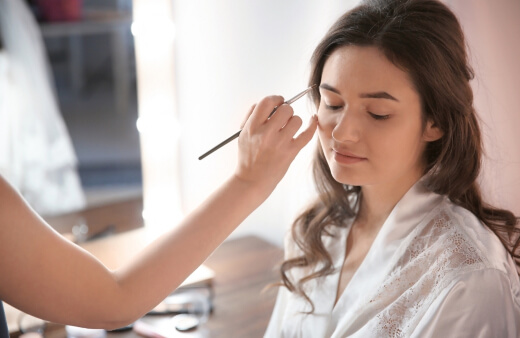 Try to avoid using products that encourage oil production such as alcohol-based toners and cleansers. These types of skin cleansers tend to remove the natural moisture from your skin and cause your sebaceous glands to produce more oil. The results of excess oil production under makeup include smudged makeup and shine. Use cleansers specially made for oily skin.
Use a moisturizer that is specially formulated for oily skin. Your skin still needs to be moisturized even if you have oily skin. Moisturizers for oily skin are formulated to provide long-lasting hydration and a matte finish. Leaving your skin optimally moisturised which is a great foundation for the rest of your makeup application.
After moisturizing your skin, use a mattifying primer to prevent the natural skin oil from mixing up with your makeup. Add an extra layer around your forehead, nose, and chin since they are the most shine-prone areas. A good mattifying primer also helps your makeup last all day without smudging or shine.
Once your primer has been applied, use your chosen concealer sparingly to cover blemishes, dark circles around your eyes, and as a primer for your eyelids before applying the eyeshadow makeup.
Use a matte or long-wear foundation. Both of these products are great for oily skin. They provide a matte finish and are also formulated to be sweat and oil resistant which helps your makeup stay in place for hours.
Finish your skin makeup with a matte powder and setting spray. Matte powders are oil-free products that add a layer of protection against oil build-up. The setting spray will help keep your makeup intact and last the whole day.
4. Always carry your blotting sheets for makeup touch ups
Even with a good skin care routine and all the right products, you may still find that your skin produces excess oil due to hormones, stress or heat. Blotting sheets are an effective way to soak up excess oil produced without needing to reapply your makeup. Small and compact, they can easily be brought with you to an event for touch ups.
To use a blotting sheet, simply use a single blotting sheet and dab gently on the oily bits of your skin without rubbing, as rubbing will smudge your makeup or remove it. This product is especially convenient for longer events such as weddings, to lessen your skin's shiny appearance leaving you ready for photos at any time.
5. Use natural lighting instead of flash photos
When possible, opt for taking photos in natural lighting to reduce the shine in photos. This tip is applicable to all skin types as flash photography with bright artificial lighting heightens shine and generally is less forgiving on one's complexion than natural lighting.
Using dim lighting for indoor photography can help to reduce shine as dim lighting does not reflect light as much as flash on the skin.
If you are hiring a wedding photographer, speak to them ahead of time about your concerns with shiny skin, they will take this into account when choosing locations to photograph you and your bridal party. They will also be able to edit a lot of the shine away to make sure you're happy with the final product.
6. Immerse your face in ice-cold water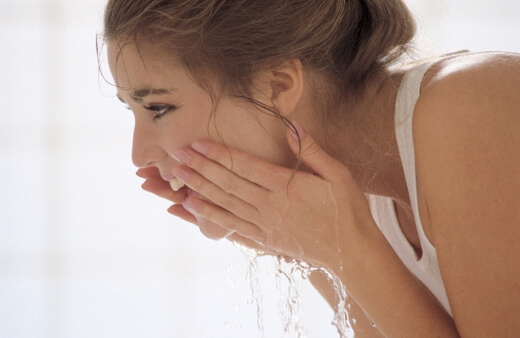 Trending online, the technique of immersing your face in icy cold water may be helpful in preparing your skin for makeup application. This technique is effective in preventing your oil glands from producing excess oil.
Use a soft cloth to pat your skin gently to remove excess water, after which you apply your moisturiser, primer and foundation.
7. Add clay mask to your skincare routine
Leading up to your wedding, include a mattifying clay mask into your skincare routine. Clay face masks help to minimize oil production and to purify your skin, removing deep-seated dirt and other skin impurities. Do this about two times a week and notice the results.
By implementing this step into your skin care routine weeks or months leading up to your wedding, your skin will experience the benefits, leaving you with beautiful, cooperative skin right before your wedding.
Get the Best Bridal Makeup for Oily Skin
Having oily skin can be a hassle when you need your makeup to last the whole day, however the steps you take in preparing your skin prior to applying your makeup as well as having products like blotting sheets and setting powder will significantly help your makeup last longer by managing the oil that your skin produces throughout the day.
Take the time to investigate which products are best for bridal makeup for oily skin, invest in good quality products that are designed for oily skin and if possible, speak to a wedding makeup artist about techniques they have successfully used to help brides with oily skin have glowing, beautiful makeup that lasts the whole of their wedding day.